33 Imaginative Gizmos of the Year
Let's have a sneak peek at what the mighty technological gods have bestowed upon us this year:
1 – The Barisieur – Alarm Clock and Coffee Maker
There's nothing more exhilarating than getting up to the intoxicating aroma of hot coffee. Yes, this is certainly the best alarm clock you can ever get your hands on!
2 – Cumulous – Parasol
This unbelievable camera only unleashes itself when the sun begins to frown upon it. Just think of it: a host of these impressive gizmos encircling the swimming pool and once the sun bursts through the cloud cover, the umbrellas begin to blossom like mushrooms!
3 – Mars by CrazyBaby – Levitating Bluetooth Speaker
The mere fact that this gorgeous swivels in the air without any support is simply incredible. But that is done for a particular reason: omnidirectional sound projection mitigates the absorption of sound into services by levitating on top of the subwoofer terminal. Soothe your soul with the spectacular sound of music.
4 – Icybreeze – Portable Air Conditioner and Cooler
Keep yourselves cool along with your drinks with this stunning portable air conditioner and cooler. An absolute delight for the blistering summers.
5 – Bluesmart – Carry on Bag
Control this amazing bag with your handheld mobile device in whatever way you want. The bag does everything instead of carrying itself. Perhaps that day would come when this transpires!
6 – Yolkfish – Egg Seperator
Baking could not have got as easier as this! No more hassle in separating your eggs!
7 – Hush – Smart Earplugs
If you have been getting frustrated of late with the annoying snoring of your spouse or the loud jamming sessions of a rock band in your neighbourhood, then Hush will come to your rescue. But it does not stop at this merely: if you want to listen to the emergency phone call or your morning or evening alarm, Hush will ensure that you are able to hear them as and when desired.
8 – Ritot – Projection Watch
It cannot get as futuristic as this: get to know the time, view text messages, emails, calendars, weather alerts and social media notifications via this amazing projection watch.
9 – Avo – Self cleaning Tropical Fish Tank
Everybody loves to own a fish tank. It's beautiful and serenating to brightly colored fish swimming in the tank. But when it stinks, all those sentiments of calm vanish into thin air. But if it's Avo, the tropical fish tank will clean itself without having you to worry about it.about
10 – Bunch O Balloons – Water Balloon Filler
Amp up your water balloon battle skills with this prolific water balloon filler. Hey, it even ties them up for you!
11 – Cocoon – Home Security Device
Cocoon might seem to be adorable but it keeps watch at your surroundings far better than the agilest of watch dogs you will ever come across. The home security devices has the ability to sense dangers and hazards even through the doors and walls. Amazing isn't it?
12 – Edyn – Garden System
Is your favorite plant in the lawn not sprouting the way it actually should? This state of the garden system detects the variations in the atmosphere to keep your plants growing and flourishing.
13 – Adobe Ink and Slide – Stylus for iPad
This is going to revolutionize the way you have been using your handheld mobile devices. A must have doodle tool for your iPad!
14 – Pearl – Compact Mirror and USB Rechargeable Battery
There is no need to overstuff your pockets with both a small sized mirror and  USB rechargeable battery. This amazing gizmo is both in a single package!
15 – Frameworks One – Backlit Frame
Transform your memories into sublime pieces of digital art to cherish forever.
16 – Ice cream Sandwich 9000mAh Power Bank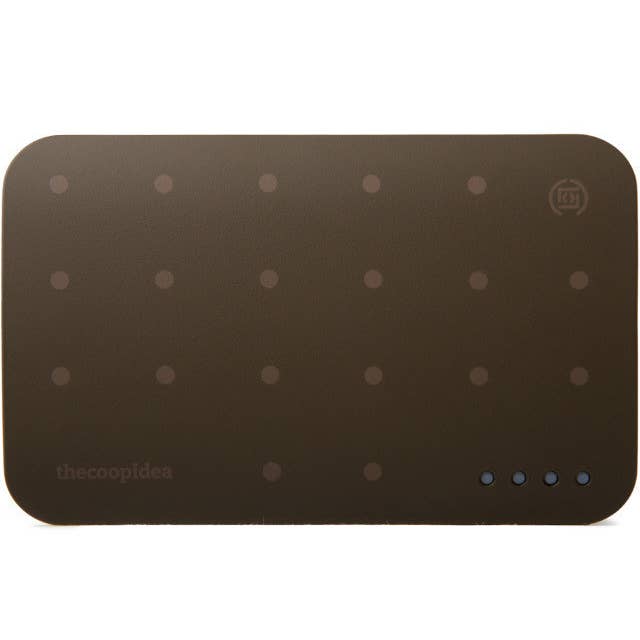 This gizmo resembles an ice cream sandwich and will charge your smartphone or any other handheld mobile device.
17 – Haiku Fan with SenseMe Technology
This incredible fan triggers itself on and off automatically when you move in or out of the room. It also adjusts its speed based on the configured temperature.
18 – JIBO – The Family Robot
This family robot is no Rosie but we hope to get there in the days to come!
19 – Vessyl – Smart Cup
This intelligent drinking cup keeps track of what you are drinking, the number of calories you are consuming, if the drinker has taken in sufficient fluids, if consuming excessive caffeine is going to make you feel uncomfortable, how to schedule your fluid intake to ensure that you sleep well and plenty of other stuff.
20 – The Golden Goose – The Egg Scrambler
Get to eat scrambled eggs with this innovative gizmo without having to break the egg shell.
21 – Smart Mat – Intelligent Yoga Mat
Smart Mat has got your all ends covered if you are not able to get to your yoga classes after work or if you are not good enough to get into the right positions without assistance.
22 – Butter Up – Knife Butter Softener
Have you ever ended up ripping apart your slice of bread while trying to apply butter that is hard, unyielding and doesn't melt? Then use this Knife Butter Softener to get rid of your woes.
23 – Bistro – Fast Recognizing Smart Cat Feeder
Use this advanced feeder to keep an eye on your cats so that they do not eat each other's feed in addition to ensuring that they are hale and hearty.
24 – Grillbot – Smart Grill Cleaner
It sucks to clean your grill but it sucks even more if you have to eat a steak covered with grill debris. Grillbot the smart grill cleaner can get you out of misery, folks!
25 – ShotTracker – Wearable Basketball Performance Gadget
ShotTracker can help you monitor your progress as a budding and aspiring basketball player. Put on the wristband, connect a sensor to your net, download the smartphone app and you are on your way! Your personal profile will build up soon and you will  cross the threshold of being a rookie.
26 – Patch of Sky – Ambient Lights
Each light in the set keeps track of the weather information based on your current Facebook location which is then portrayed in the shape of vibrantly colored illuminated animations. The light will keep your friend updated about the sky and world you live in regardless of the distance between you two.
27 – Tool Pen – Multi-Tool
This tool is not clumsy. It is sleek, stylish and small in size. Keep it in your wallet and fix things on the go.
28 – SipSnap – Reuseable Drinking Lids
If your infant loves to spills things up, SipSnap can be a mom's best friend!
29 – RainMaker – Plant Watering Cloud
The dry spell won't be able to overpower your plants. RainMaker will ensure that your plants get sufficient amount of water even when the there is no prediction of rain.
30 – Kangaroo Light – Flexible Lighting
This multitasking light can be used in your bedroom or even your wallet. Possibilities are unlimited.
31 – Icecap – Wine Chiller and Aerator
This state of the art gadget has the enviable ability to convert warm wine into cold cellar temperature one.
32 – Jumbo – Cutlery Drainer
A seemingly undesired process transformed into an admirable one!
33 – TellSpec – Food Scanning System
This handheld gizmo will provide you requisite information about the contents in your food including allergens, chemicals, nutrients, calories, preservatives and much more. Tell the device id you intend to abstain from sodium. Point it to your food and let it warn you if you should stay away from it or have a go at it.