Take Your Cookie Dunking High-tech with the New Dunkin' Buddy
Dunking cookies in milk can sometimes be more complicated than it should. Cookies can get soggy and break off, leaving more of them at the bottom of the glass than in your mouth. Your fingers also get messy from dipping the cookies and the top edge of the cookies don't get dunked at all!
Since there is a gadget to make every aspect of our lives more convenient and more enjoyable, why not one to make dunking cookies in milk cleaner and easier as well? That was the thinking behind the new Dunkin' Buddy cookie dunking tool, a smart and convenient way to enjoy cookies and milk without the mess or hassle.
How it Works
The Dunkin' Buddy is actually quite simple but very ingenious. It has two parts, one of which is like a small cup or receptacle for your cookie. This part goes on the inside of your glass. The other part is a small knob that goes on the outside of your glass, and both parts have a magnet on the side that face either other.
To use the Dunkin' Buddy, you simply put your cookie in the holder and use the handle on the outside of the glass to drag it however far into the milk you want. The receptacle will hold the cookie even if it should crumble and break so your milk stays clean and you don't lose parts of the cookie at the bottom of the glass. You can submerge the cookie entirely or just halfway, without getting anything on your fingers.
Where to Get It
The Dunkin' Buddy is not yet available on retail shelves, as the makers had a Kickstarter program established to help with manufacturing costs but were forced to pull it after not too long. However, considering what a handy little tool it is and how both adults and kids alike have a need for such a gadget, it probably won't be long before it makes a reappearance. In the meantime, it shows how even a simple design can make our favorite activities so much easier!
Today's Deal on Dunking Buddy
Ebay.com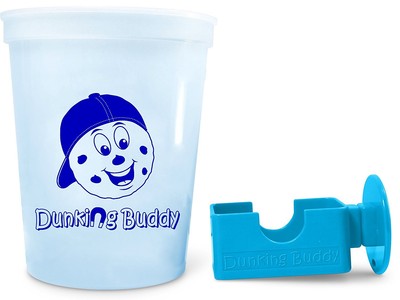 Ebay.com